Lumbini (southern Nepal)
Lumbini Ashoka pillar
at the time of discovery in 1896
563 BCE
: Siddartha Gautam (aka Lord Gautam Buddha) was born in Lumbini, Nepal.
3rd century BCE: King Asoka (who was Buddhist) visited Lumbini and erected a pillar at the birthplace of Lord Buddha. This pillar was re-discovered in Dec, 1896.
1312 AD: King Ripu Malla of Khas empire of western Nepal visited Lumbini. His stone inscription near Ashoka pillar in Lumbini is still in existence.
1AD: world population estimated 170-400 millions. (link)
Lichhivi Era of Central Nepal (185-750 AD) - (inscription of this time are in the Sanskrit Language)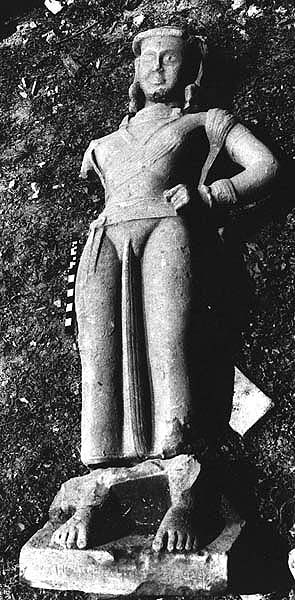 Male Sculpture - 185AD (King Jaydev Burma)
185AD:
King
Jayadev Burman
became the First Lichhivi king in central Nepal. A s
culpture
found from the year 185 AD is the oldest proven
Sculpture
found in Nepal so far. (
link
)
325 AD (around): King Brisha Dev ruled Nepal during the rule of Chandra Gupta I (319-335AD) in India. Kumari Devi daughter of Brisha deva was the wife of Chandra Gupta I and mother of emperor Samundragupta in India.
King Haridutta was another influential Lichhivi ruler. He built four Narayan temples in Kathmandu - Changunarayan, Vishankhunarayan, Sikhanarayan, and Ichankhunarayan. He also built Budhanilkantha. Vaishnavism flourished in Nepal during his era.
King Dharma dev (father of King Mandev) ruled.
464-505 AD: King Mandeva ruled Nepal according to the Stone pillar erected by King Mandev in Changunarayan Temple, Bhaktapur, Nepal.
464 AD stone inscription - by King Mandev of Lichchhibi
dynasty - found in Changunarayan Temple, Bhaktapur, Nepal
505 AD: World population estimation 190-210 millions.

Dual rule of King and Prime Minister

588 AD: start of the Rule of King Shivdev I (and Mahasamanta Ansuvarma). We have many stone inscriptions available of Ansuvarma.
605 AD: Shivdev I died. Ansuvarma became really powerful as a solo administrator.
624 AD before: Lichhivi Princess Bhrikuti married Tibetan emperor Songtsen Gampo.
622: Ansuvarma died around this time. and after that Udaya Dev I, son of Shiv Dev I became king but soon after that he was dethroned by his brother Dhurba Dev with the help of Jisnu Gupta.
622-633 AD: rule of Mahasamanta Jisnu Gupta as he took control of the administration. His copper coins are available now.
Copper coin of Jisnu Gupta
630 AD -645 AD: Xuanzang, a famous Chinese visitor, visited South Asia including present-day Nepal and India. Harshavardhana (590-647) was ruling in Northern India.
Huan Tsang wrote: "This country, Nipolo (Nepal) is surrounded by snow-clad mountains, of an area of 4,000 Lee (Chinese scale: 1 li is equivalent to 0.5 km). The area of the capital is 20 Lee (about 10 km) Food and fruits are found in abundance. Copper, Yak, and Mingming (the Chinese name of a bird) are also found here. Copper coins are used in trade. The people of this land do not speak the truth. They are not dependable and trustworthy people. They have ill manners. They are not educated but highly skilled in art and architecture. Their appearance is not attractive and they do not look friendly. Apart from Buddhism, there are also people following other religions. Buddhist stupas and Hindu temples are constructed side by side. About 2,000 Buddhist monks have been studying here about Hinayana and Mahayana of Buddhism. The reigning king is of the Lichchhavi dynasty. He possesses a wide variety of knowledge. He has a noble character. He has faith in Buddhism. Recently, Anchufabo (Amshuverma) was ruling the country. His glory and greatness are renowned. He has composed a book of Grammer. He respects learned and talented people."
After Jisnu Gupta his son Bishnu Gupta became the real ruler.
640 AD: Narendra Dev, son of Udaya Dev I, became King. After being dethroned by Dhurba Dev Udaya dev has taken shelter in Tibet under King Srong-Tsang-Gompo. His son Narendra dev took back his govt with the help of Tibetans.
643 AD: Chinese Mission visited Nepal for the first time during the rule of Narendra Dev.
647 A.D: a second Chinese Mission under the leadership of Wang Hieun Tse visited Nepal. This Mission highly praised the development of Nepalese art and architecture. Narendra Dev also sent a Mission to China with presents and messages of goodwill.
649 AD: Wang Xuance, a diplomat of Tang Dynasty China, led the joint force of over 7,000 Nepalese mounted infantry and 1,200 Tibetan infantry and attack the Old Harsa Empire.
683: Narendra dev died.
684-705 AD: Rule of Shivadev II.
705 -729 AD: Rule of Jayadeva II.
733 AD: Jayadev II stone inscription in Pashupatinath.
Baradeva/ Aramudi ruled after Jayadeva II.
770-800 AD: King Vanayaditya Vinayaditya was the king of Kashmir during this time. He tried to invade Nepal too. But got defeated and captured. Later his minister came and escaped back home.
748-749 Shaṅkaradeva II,
756 Mānadeva III,
826 Balirāja,
847 Baladeva,
877 Mānadeva IV ruled Nepal after that (link)
Eastern Nepal
880-915 AD: King Sirijunga united all small principalities in eastern Nepal.
---
Sources of history of Ancient Nepal:
-various Licchavi stone and copper Inscriptions/Sculpture (AD 185-879).
-Jayadeva (II)'s Chronology (AD 733)
-Gopalaraja Vamsavali (AD 1389)
-Ancient travelers; like Chinese Huan Tsang (AD 630-645), Wang Hieun Tse (AD 647)
-Chinese (also Tibetan) and Indian sources.
- BOOK: The Licchavi Kings, by Tamot & Alsop. (link)